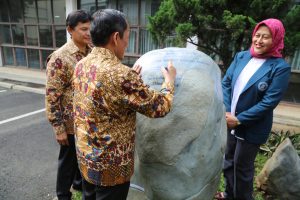 "Taman Batu" – Geological Engineering
Faculty of Earth Sciences and Technology – ITB
On the initiative and with a joint fund between Lecturers in Geological Engineering, the Faculty of Earth Sciences and Technology ITB, Taman Batu was present to adorn the eastern part of the Geological Engineering building in Jalan Ganesha 10. In addition to adding to the beauty of the building, this park is expected to be a reference for Geological Engineering students in particular and other students and the community in general about stone security which is the object of research by Geologists.
This Taman Batu has become one of the parts of the Bandung Institute of Technology with the inauguration of the ITB Chancellor Mr. Prof. Dr. Ir. Kadarsah Suryadi, DEA on Friday 21 December 2018.
This Taman Batu has a collection of 39 rock types as follows with location:
.