Goals | Curriculum | Course Sylabus | Module Handbook
In ITB, students complete the bachelor program after taking the minimum of 144 credit hours (Satuan Kredit Semester / SKS), offered in 8 regular semesters. Generally,  all programs are conducted in two stages as follows:
The Common Preparatory Level (Tahap Persiapan Bersama, TPB) administered by the Institution for Common Preparatory Level (Lembaga Tahap Persiapan Bersama / LTPB). This stage initiates the undergraduate study by strengthening the comprehension of basic sciences and enhancing required learning aptitudes. The normal duration of this stage is two semesters, consists of 36 credit hours. However, students must complete this stage in 2 years.
The Bachelor stage (Sarjana) administered by the study programs within each faculty or school. This is the stage for developing the knowledge and skill of the chosen discipline. The normal duration is 6 semesters with minimum 108 SKS. Students are given 6 years to complete the undergraduate stage, including the common preliminary stage.
The curriculum structure of the Undergraduate Program in Geological Engineering can be expressed in the form of a roadmap as in Figure 1 and Figure 2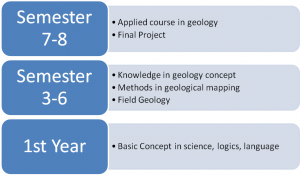 Figure 1. Road map of Undergraduate Program in Geological Engineering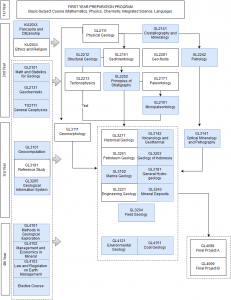 Figure 2. Undergraduate Program in Geological Engineering Compulsory Course Roadmap
Undergraduate Program of Geological Engineering 2013 curriculum is divided into two stages, which is:
First Year Preparation Program : 2 semester, 36 CU
Undergraduate Program: 6 semester, 108 CU
 According to the type, there are two type of courses in Geology Department, which is:
Compulsory: 89 or 91 CU (maximum compulsory credit is different according to the choice of final project type, A or B)
Elective: 17 or 19 CU ( 3 CU from external elective courses, 14-16 CU of internal elective courses)
Total Courses: 8 semester, 144 CU
Compulsory Courses: 125 or 127 CU
Elective Courses: 17 or 19 CU
Programme
Stage
Total CU Pass
Minimum GPA
Maximum allowed duration of Study
Com-pulsory
Elective
Total
Under-graduate
First Year Preparation Programme
36
0
36
2.0011
2 years
Undergraduate*
__
__
144
2.0022
6 years
*cumulative; 1Minimum grade D; 2Minimum grade C.
Graduation rules is following the graduation rules in ITB with addition of:
Undergraduate program can be done with total CU passed of 144 CU and has enrolled and passed the colloquium, comprehensive test, and final project defense as final step of students Final Project.
Tabel 1
Semester I
Semester II
 
Code
Courses Name
CU
 
Code
Courses Name
CU
1
MA1101
Math I A
4
1
MA1201
Math II A
4
2
FI1101
Basic Physic I A
4
2
FI1201
Basic Physic II A
4
3
KI1101
Basic Chemistry I A
3
3
KI1201
Basic Chemistry II A
3
4
KU1101
Introduction into Engineering and Design 1
2
4
KU201
Introduction into Engineering and Design 2
2
5
KU1011
Scientific Writing
2
5
KU102X
English
2
6
KU1163
Introduction into Earth Science
2
6
KU1071
Introduction into Information Science A
2
7
KU1001
Sports
2
Total
17
Total
19
Semester III
Semester IV
 
Code
Courses Name
CU
 
Code
Courses Name
CU
1
GL2111
Physic Geology
3
1
GL2012
Structural Geology
3
2
GL2141
Crystallography and Mineralogy
3
2
GL2242
Petrology
3
3
GL2151
Sedimentology
3
3
TG2211
General Geophysics
2
4
GL2171
Paleontology
3
4
GL2261
Micropaleontology
3
5
GL2131
General Geochemistry
2
5
GL2213
Tectonophysics
2
6
GL2101
Math and Statistic for Geology
2
6
GL2252
Principle of Stratigraphy
2
7
GL2281
Geo-fluids
2
Total
16
Total
17
Semester V
Semester VI
 
Code
Courses Name
CU
 
Code
Courses Name
CU
1
GL3141
Optical Mineralogy and Petrography
3
1
GL3203
Geology of Indonesia
2
2
GL3101
Computational Geology
3
2
GL3204
Field Geology
4
3
GL3142
Volcanology and Geothermal
2
3
GL3051
Petroleum Geology
3
4
GL3181
General Hydrogeology
3
4
GL3221
Engineering Geology
3
5
GL3191
Reference Study
2
5
GL3205
Geology Information System
3
6
GL3111
Geomorphology
3
6
GL3271
Historical Geology
2
7
GL3002
Marine Geology
2
7
GL3243
Mineral Deposits
3
Total
18
Total
20
Semester VII
Semester VIII
 
Kode
Nama Matakuliah
sks
 
Kode
Nama Matakuliah
sks
1
GL4101
Methods in Geological Exploration
3
1
GL4098
Final Project A
5
2
GL4151
Coal Geology
2
3
GL4103
Law and Regulation on Earth Management
2
Total
5
Semester VIII
1
GL4099
Final Project B
3
Total
7
Total
3
| | | | |
| --- | --- | --- | --- |
| | Code | Course Name | CU |
| 1 | KU206X | Religion & Ethics | 2 |
| 2 | KU2071 | Civic Education | 2 |
| 3 | GL4102 | Management and Mineral Economics* | 3 |
| 4 | GL4121 | Environmental Geology* | 3 |
| | | Total | 10 |
* ITB Compulsory Courses: 10 CU
*They are alternative courses on management courses set up by ITB. Students must take any one of them;
| | | | |
| --- | --- | --- | --- |
| No | Code | Courses | CU |
| 1 | GL2021 | Introduction into Environmental Geology | 2 |
| 2 | GL3002 | Statistic in Geology | 2 |
| 3 | GL3053 | Sedimentology and Stratigraphy | 3 |
| 4 | GL3044 | Petro-genesis | 2 |
| 5 | GL3045 | Rock Forming Mineral | 2 |
| 6 | GL3054 | Introduction into Petroleum Geology | 3 |
| 7 | GL3061 | Micropaleontology and Biostratigraphy | 3 |
| 8 | GL3122 | Introduction into Engineering Geology | 2 |
| 9 | GL3023 | Geology of Bandung Basin | 2 |
| 10 | GL3024 | Geo-tourism | 2 |
| 11 | GL3021 | Geological Hazard Analysis | 2 |
| 12 | GL4022 | Introduction into Rock Engineering | 2 |
| 13 | GL4031 | Petroleum Geochemistry | 2 |
| 14 | GL4041 | Industrial Material Geology | 2 |
| 15 | GL4042 | Geothermal Geology | 2 |
| 16 | GL4043 | Geology of Construction Materials | 2 |
| 17 | GL4044 | Hydrothermal Mineral Deposits | 2 |
| 18 | GL4051 | Analytical Stratigraphy | 2 |
| 19 | GL4052 | Well Logging Geology | 2 |
| 20 | GL4071 | Paleontology of the Vertebrate | 2 |
| 21 | GL4072 | Paleontology of the Invertebrate | 2 |
| 22 | GL4073 | Geo-archaeology | 2 |
| 23 | GL4096 | Practical Work | 2 |
| 24 | GL4097 | Specific Assignment in Geology | 2 |
| 25 | GL4274 | Science in Geo-archaeology | 2 |
| 26 | GL4081 | Geo-pressure | 2 |
| 27 | GL4045 | Mineral Deposits and Iron Ore | 3 |
| 28 | GL4011 | Micro-tectonics | 2 |
| 29 | GL4012 | Neo-tectonics | 2 |
| 30 | GL4013 | Fractures & Geo-mechanics | 2 |
| 31 | GL4053 | Non-Conventional Petroleum Geology | 2 |
| 32 | GL4014 | Applied Structural Geology | 2 |
| 33 | GL4015 | Remote Sensing Geology | 2 |
| 34 | GL4032 | Exploration Geochemistry | 2 |
| 35 | GL4033 | Soil Geochemistry | 2 |
| 36 | GL4074 | Geochronology | 2 |
| 37 | GL4061 | Quantitative Stratigraphy | 2 |
| 38 | GL4062 | Applied Micropaleontology | 2 |
| 39 | GL4046 | Petrology of Sedimentary Rock | 3 |
| 40 | GL4053 | Sequence Stratigraphy | 2 |
| 41 | GL4094 | Kapita Selecta 1 | 2 |
| 42 | GL4095 | Kapita Selecta 2 | 3 |